10 HTC One M8 Tips and Tricks You Should Know
BY May | August 2nd, 2014 | 0 | 3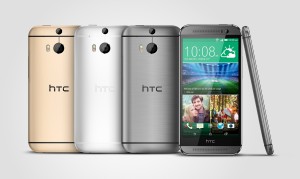 As a successor to HTC One M7, the One M8 maintains the similar design. As for the features, the HTC One M8 is equipped with a 5-inch 1080p display, a quad-core Qualcomm Snapdragon 801 processor and a refreshed version of HTC's Sense software. Have you make full use of this flagship phone, now here in below we'll show you some tips and tricks for M8.
1. Quickly Add A Widget
Put two fingers a few inches apart on home screen, then pinch them together, the widgets and pages overview screen will show up to let you customize.
2. Do Not Disturb Mode
The HTC One M8 comes with a Do Not Disturb mode, enabling your phone to reject audible or visible notifications. What you need to do is going to Settings > Sounds > Do Not Disturb, select the options that you'd like to turn off.
3. Save Photos to A SD Card
The HTC One M8 allows up to 128GB expandable storage. If you want to store pictures or videos to the SD card, please launch the camera app, tap on the menu icon, followed by the Settings cog. Scroll down and tap on the Storage option, then select SD card and go forward the pictures and videos.
4. Turn A Zoe into A GIF
Zoe was first introduced with the original HTC One last year, making it possible to take creative shots with the camera. The Zoe pictures can be turned into a GIF by the following tip. After recording a Zoe, view the Zoe file and tap on Edit, scroll through and tap on the GIF Creator icon.
5. Change the HTC One M8 Theme
The HTC One M8 allows you to change more than just a background. Go to Settings > Personalize > Theme > and pick one of the four themes.
6. Customize the LED Notifications
The HTC One M8 features a small LED in the top speaker grille, notifies you if there're new email or text incoming without turning on the display, but sometimes the flashing light can be a hassle especially when you're trying to sleep. Here is the solution. Go to Settings > Display & gestures > Notification light > pick the items you want it to flash for.
7. Kid Mode
This child-friendly Kid Mode on One M8 lets parents lock the phone to educational and entertaining apps or videos while keeping their contacts and apps safe. Hold the power button down to switch to kids mode. From there you can customize it for each kid with specific apps. Kids cannot leave this mode without knowing the parent's pin.
8. Auto Switch to Cellular When WiFi Fails
If you constantly use the HTC One M8 on poor WiFi while cannot fix with a new router, there is a setting you can use to automatically switch to cellular when WiFi fails. Be cautious to open this setting as it may result in more data usage and eventually a higher bill. Go to Settings > WiFi > Advanced > Auto-switch to mobile network.
9. Pick Where the Photo is Focused
Launch the Gallery and select a photo, tap on edit then tap on UFocus. Tap anywhere you like in the frame to change focus. This can lead to a blurred background that makes a photo look more like something in a professional took.
10. Turn Off WiFi Reminders
If you're annoyed by the small pop up notification that WiFi is available when launching an app, you can turn this off easily simply by going to Settings > WiFi > Tap on The Three Dots > Advanced > Notify Me > Off. This won't keep the information out of the Notification Drawer, but it will stop a pop up from getting between you and your apps.